Park Scholar endowments at North Carolina State University and Ithaca College represent the founder's legacy interests.
The late Roy H. Park Sr. was a graduate in Journalism from North Carolina State University (NCSU) and served on the Board of Trustees of Ithaca College. These experiences fed his desire to help promising students acquire degrees and begin to achieve their dreams.
The Scholar Programs were begun two decades ago and have provided support totaling over $144 million in direct support, and $80 million in endowment gifts.
The Programs at Ithaca College and NCSU have been expanded from funding to endowments. The move aligns with the program's requirement that endowed funds be invested according to the guidelines of our overall mission-related investing goals.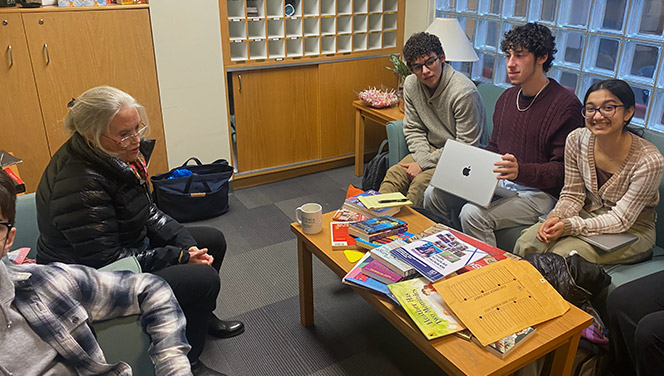 North Carolina State University
In 2013, Park Foundation established an endowment for the NCSU Scholarship program with an initial gift of $10 million. In 2018 the Foundation completed this commitment with gifts bringing the total to $50 million. Significant elements of this endowment include the University's commitment to invest the endowment in a socially responsible fashion, and its commitment to raise an additional $50 million as part of its current capital campaign.
The NCSU Park Scholarship program supports nearly 40 new scholarships each year, and its roster of current scholars and alumni is nearing 1,000. Recipients are selected by NCSU through national recruitment and a rigorous review process that includes on-campus interviews of finalists. Those selected have demonstrated achievement and potential in four key areas: scholarship, leadership, service, and character. The grants cover tuition and fees, room and board, books and supplies, a computer stipend and living expenses. The scholars represent a wide array of majors across the entire university, including business, engineering, the humanities, public administration, and the sciences.
Program enhancements include enrichment grants, specialized faculty mentoring, retreats, leadership, learning, and myriad civic engagement opportunities.
In 2014, Park Foundation established an endowment for the program with an initial gift of $5 million. In 2019 the Foundation completed its commitment, bringing endowment gifts to $30 million, the largest endowment gift that Ithaca College had ever received. Like the NCSU endowment, Ithaca College has committed to investing this endowment in a socially responsible fashion.
The Program targets outstanding students entering the Roy H. Park School of Communications. The scholars are studying the full range of communications majors including cinema, documentaries, emerging media, TV-Radio, journalism, management, and marketing. Scholars are encouraged and trained to use the power of mass communication to make a positive impact on the world. In a typical year, the program supports the chosen students with commitments to cover the entire cost of attendance: tuition, room and board, books and supplies, and stipends for a computer and living expenses. One feature of the program is the "rising juniors" opportunity for meritorious students to receive a scholarship for the final two years of their undergraduate degree.
Program enhancements include multiple opportunities for community engagement, leadership, and service training for participation locally, nationally, and globally. Park Scholar alumni live, work, and serve across the nation from New England to the Pacific Northwest, from Florida to Texas to California.