School Food and Nutrition
The vision for the School Food and Nutrition Special Project area is that all Tompkins County residents will have adequate nutritional security to support their health, growth, and well-being.
In particular, the Park Foundation has set a goal of ensuring that every student in Tompkins County has access to and is choosing to eat nutritious and appealing food in school. The Foundation views this work through a social justice lens. This includes the understanding that access to adequate, healthful food is a human right and closely linked with an individual's or family's ability to focus on higher-order priorities such as employment, education, participation in public life and caring for family and community.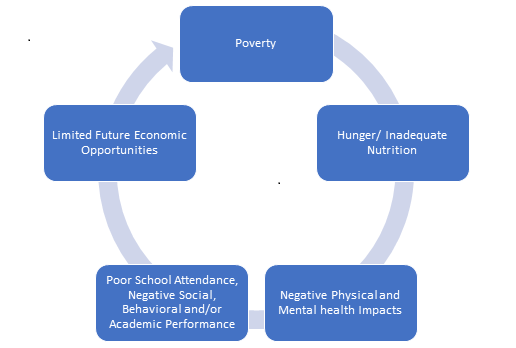 The goal of the Foundation is disruption of the self-reinforcing cycle depicted above.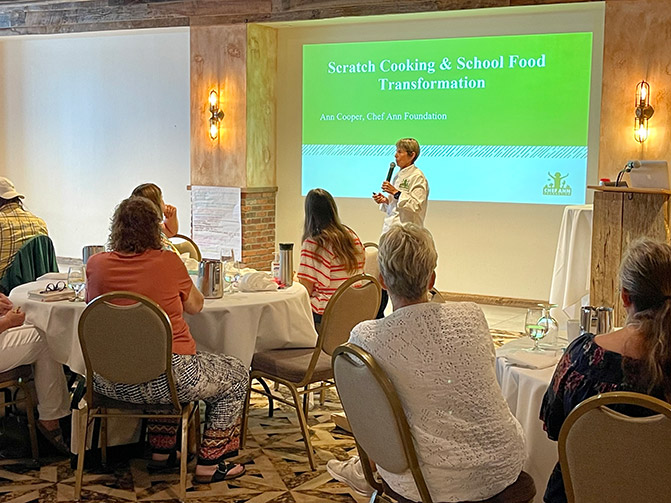 Currently, the Foundation is pursuing two strategies to achieve this goal:
The Single District Strategy involves a close multi-year partnership with one Tompkins County School District focused on advancing the district's and community's goals regarding school food, nutrition and nutrition education. The Foundation has selected the Groton Community and the Groton Central School District for its pilot partnership.
Tompkins County Opportunity Strategy
The Tompkins County Opportunity Strategy seeks to develop relationships, skills, and ideas in support of quality school food and nutrition at Tompkins County public schools. This is envisioned as grant making in support of discrete programs requiring technical assistance, planning, or training that will advance the overall project goal of ensuring that every student in Tompkins County has access to and is choosing to eat nutritious and appealing food in school.
On-going operating funds for such projects is not available. Grant decisions will be guided by the following parameters:
All projects should generally address opportunities or shortfalls identified in the Needs and Asset Assessment of Child Nutrition in Tompkins County.  (Links to that report are here: Full Report or Executive Summary)
Projects and interventions must be developed in partnership with the populations the project is intended to benefit.
All school-based projects (programming during the school day or at a school) must involve relevant school district personnel in planning, design, implementation, and evaluation.
Grant proposals should address school-year, school-day nutrition in one or more Tompkins County public school(s).
Equipment purchases will be limited to items essential to advancing the goals of proposed projects. Requests for projects outside Tompkins County will not be considered.
Prior to submitting a proposal, prospective applicants should contact the Foundation to determine appropriate fit. Please be prepared to provide information regarding content and treatment, distribution, outreach, budget, funding sources (and fiscal sponsorship as appropriate).