To complement our grantmaking mission to address environmental issues, Park Foundation has a strong commitment to "walking the talk" – seeking the highest level of sustainability in our operations and activities.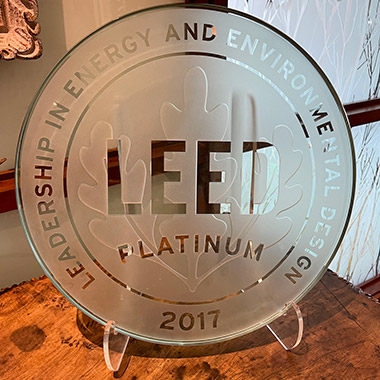 Park Foundation offsets our travel-related carbon emissions by calculating staff and Trustee work-related travel, including staff commuting. Once offsets are calculated, an annual contribution is made to Sustainable Tompkins Finger Lakes Climate Fund. Proceeds from this fund assist low-income families in Tompkins County in conducting energy efficiency retrofits to their homes.
Central to this goal is green certification of our offices and practices.
When the Foundation moved to newly designed office space in downtown Ithaca in 2014, we:
donated 103 pieces of furniture to 12 different nonprofit organizations in Ithaca
digitized, shredded, and recycled over 80 boxes of grant records
produced Park Foundation Goes Green a short video by David Stearn, a journalism graduate of Ithaca College, which that details a moving and upgrading project begun in 2007
In designing the new office and our operations, Park Foundation was guided by two certification programs:
Leadership in Energy and Environmental Design (LEED)®
HOLT Architects of Ithaca, NY led the LEED certification process with Foundation assistance by Maegan Krieger. As part of its design and construction of new office spaces, in 2017 the Foundation was awarded LEED Platinum 2.0 certification under the LEED Commercial Interiors (LEED –CI) category that allows certification of office spaces within buildings that are not LEED-certified overall. Significant elements of LEED CI certification include:
High efficiency heating and air conditioning systems
Commissioning of those systems
Occupancy sensor heating and lighting
Nontoxic materials in carpeting, finishes and furniture
Energy Star appliances
Natural lighting
Construction waste minimization
Alternative transportation, bicycle storage and changing rooms
Green power
Regional and renewable materials
Certified wood
Green Plus is a certification process that helps an organization develop sustainable operations, policies, and processes. Green Plus breaks its overall certification into the subcategories of Performance, Planet and People. The Green Plus certification process was assisted by interns Shea O'Meara of Ithaca College and Maegan Krieger of Cornell University. As a result of the design and construction of new office spaces the Foundation received Green Plus certification in 2015. Significant elements include:
Planning and documentation
Sustainable purchasing
Financial practices
Human resources
Sustainability management
Community engagement
Raising awareness
Energy
Water
Transportation
Waste reduction
A summary of the Foundation's Green Plus score and final report (PDF Download)