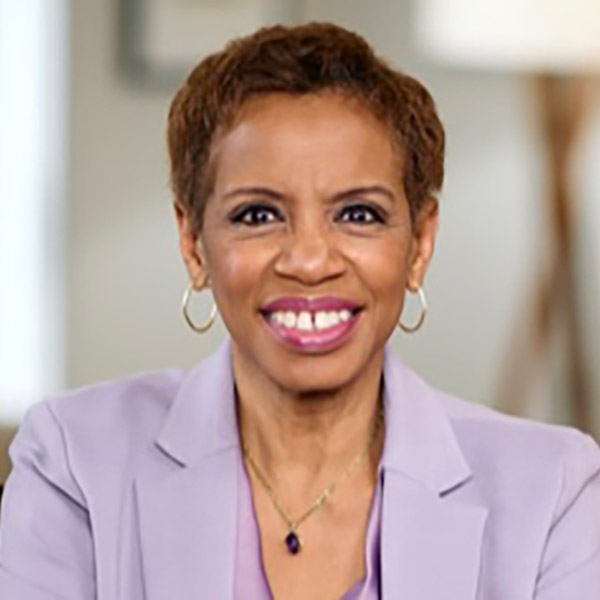 Hon. Donna F. Edwards
Donna F. Edwards served five terms (2008-2017) in the United States House of Representatives, becoming the first African American woman to represent Maryland. Congresswoman Edwards was born in North Carolina, grew up in a military family, and lived in every region of the country and internationally. She earned her J.D. from the University of New Hampshire School of Law (licensed in DC) and her B.A. from Wake Forest University. She is the mother of one adult son.
As a nonprofit executive, Congresswoman Edwards co-founded and led the National Network to End Domestic Violence, spearheading the effort to pass the Violence Against Women Act in 1994. She was the executive director of the Arca Foundation and Center for a New Democracy, and was a tireless democracy advocate for Public Citizen. Edwards was a systems engineer on NASA's Spacelab project. She currently serves as vice-chair of the U.S. Association of Former Members of Congress, co-chair of the National Council on Election Integrity, the League of Conservation Voters, and is a trustee of Wake Forest University.
In Congress, Edwards served on the Committee on Transportation and Infrastructure, Committee on Standards and Official Conduct, the Tom Lantos Human Rights Commission, and the Committee on Science, Space and Technology, as the lead Democrat on the Subcommittee on Space.  Congresswoman Edwards was a member of the Democratic leadership team as co-chair of the House Democrat's Steering and Policy Committee. She was co-chair of the bi-partisan Women's Caucus.
Edwards enjoys camping, hiking and fishing throughout the United States in her Rv Lucille, having recently completed a two-month adventure to Alaska. Congresswoman Edwards provides political commentary in print, electronic, and cable media. Edwards is a political analyst for NBC/MSNBC Universal. She is senior advisor to the Bauman Foundation and trustee of the Park Foundation.